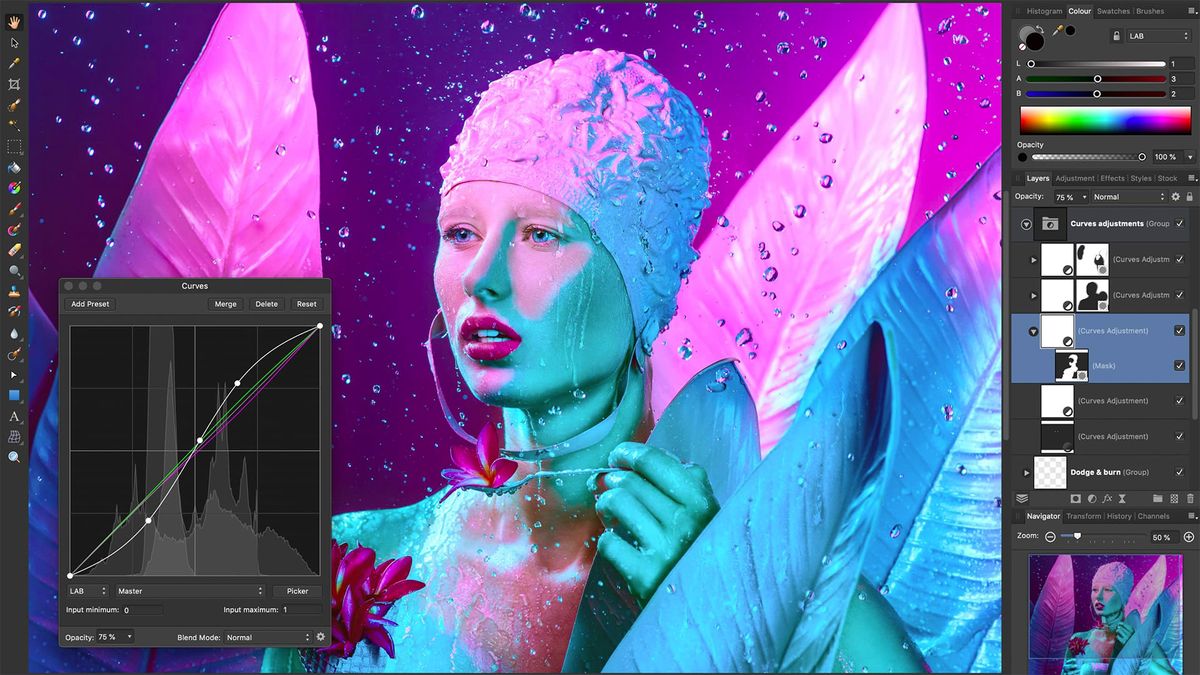 Even the best Photoshop alternatives were once poor imitations of Adobe's industry-leading software. But in 2022, that's not the case. The best Photoshop alternatives today include some super-sophisticated tools, plenty of which match up to Photoshop well – and even exceed it in some areas. Others are less capable, but significantly cheaper. Or even, yep, free.
In this guide, we've compiled the best Photoshop alternatives available today, for all purposes and budgets. Note, though, that some of them aren't close to as feature-rich as Photoshop (although in many cases, that's exactly the point).
Below, you'll find the best photo apps and photo editing software that can rival Photoshop today. But if after seeing all these rivals, you decide you want to go for Adobe after all, check out our guide on how to download Photoshop.
The best Photoshop alternatives in 2022
(Image credit: Serif)
01. Affinity Photo
The best Photoshop alternative overall
Specifications
Platform: Mac OS 10.9+, Windows 10+; iPad version sold separately: iOS 12+
Latest version: 1.10.5
Free trial: Yes
Free version: No
Reasons to buy
+
Professional tool 
+
Advanced features
Reasons to avoid
–
No Android version 
–
iPad version sold separately
From features to interface, Affinity Photo is the closest of the Photoshop alternatives we've seen to date. Aimed squarely at professional photographers and designers, it fully compatible with Photoshop and other file formats. And it's hugely cheaper than Photoshop (with no subscription) – one of the biggest plus points in our Affinity Photo review.
Despite the low price, though, in many ways it's actually better. Affinity Photo comes with a promise of higher speeds, fewer crashes and unlimited undos than Photoshop. That said, the amount of improved performance you'll get will probably depend what equipment you're using (it's been specifically designed to take advantage of the latest quad core technology). 
Affinity Photo is available for both Mac and Windows, and there's a separate version for iPad. If you're looking for an affordable alternative to Photoshop, Affinity Photo is definitely worth investigating. 
(Image credit: Procreate)
The best Photoshop alternative for digital painting on iPad
Specifications
Platform: iPad (iOS 13.2+), separate iPhone app (iOS 12+)
Latest version: 5.2.3
Free trial: No
Free version: No
Reasons to buy
+
Low cost 
+
Apple Pencil support
Reasons to avoid
–
iOS only
–
Lacks some advanced features
If it's a painting app for iPad you're looking for, check out Procreate. What started out as a basic drawing app back in 2010 has transformed over the years into a highly professional tool; so much so, it's even bagged itself an Apple Design Award. 
With an easy-to-use layout, Procreate is packed with features artists will love, from true-to-life pencils and inks to advanced layer compositing and unique digital tools. Added palm support means you no longer have to worry about accidentally drawing over your canvas, and an ever-growing library of Procreate brushes will help you add flair to your artwork. 
Procreate has full support for both first- and second-generation Apple Pencils, depending on your iPad model. And since 2019 there's been a dedicated iPhone version named Procreate Pocket. Last November, the 5.2 update introduced some fantastic new tools, including 3D model painting, stroke stabilisation, page assist, and the ability to view 3D models in AR. 
You won't find all the features you'd expect from Photoshop here, but for digital painting specifically, you'll have at least most of what you need. There's a free handbook on the Procreate website, featuring an overview of all the apps features and tools, to help get you started. For more information, read our Procreate review.
(Image credit: Photopea)
03. Photopea
The best Photoshop alternative for editing images in the browser
Specifications
Platform: Web
Latest version: 5.2
Free trial: No
Free version: Yes
Reasons to buy
+
Free version
+
Cross-platform
Reasons to avoid
–
Lacks advanced features 
–
Ads with free version
Thanks to continual advances in web technology you don't always need a discrete app to do much of what you'd use Photoshop for. Photopea, which runs in the browser, is a case in point.
Designed to be an advanced editor with pro tools, it bears a distinct resemblance to Photoshop and features most of the tools you'll need for everyday image work. It'll open most standard file formats such as JPG, PNG and RAW, and it'll accept Sketch, GIMP and even Photoshop PSD files.
Photopea supports layers and layer masks, lets you use blend modes, and features a stack of selection tools, from standard marquees through to a magnetic lasso and a quick selection tool. While it doesn't offer the sort of advanced features you'd expect in Photoshop, such as content-aware fill, it still has a more than enough going on to keep most designers and artists happy, and it's completely free to use. 
On the downside, it comes with ads, although paying for the premium version gets rid of them, and gives you extra levels of undo (60 rather than 30).
(Image credit: Rebelle)
The best Photoshop alternative for emulating traditional painting
Specifications
Platform: Windows 7, 8 and 10; OS X 10.11+
Latest version: 5
Free trial: Demo version
Free version: No
Reasons to buy
+
Mimics real paint
+
Tilt option
+
Advanced new features for 2022
If you're looking for a program that provides a true-to-life painting experience, look no further than Escape Motions' Rebelle. This affordable program replicates traditional painting techniques – watercolour in particular – with absolute authenticity – making it a worthy contender on our list of Photoshop alternatives.
Rebelle mimics the way paint behaves in the real world, enabling you to simulate a drop of colour being blown and running in different directions. You can also specify the blow length, drip size and the amount of water you 'use' with your paints, while the Tilt option lets your colours run in any direction you choose. 
The latest update, Rebelle 5, released last December, features a ton of advanced new features. These include pigment colour mixing, enabling you to paint with traditional pigments like cadmium yellow, alizarin crimson, ultramarine, and others; real-time zoom and the export of large canvases with sharp details; a Photoshop plugin; Express Oils, a new tool designed for concept art, sketching, and designing; life-like granulation effects; and time-lapse video recording of your painting process.
A highly professional painting software package, Escape Motions is keen to keep the focus of Rebelle on traditional media and the best way to present it in the digital realm. And we have to say it's doing a darn fine job. For more information, see our Rebelle 5 review.
(Image credit: ArtRage)
The best Photoshop alternative for realistic and intuitive drawing
Specifications
Platform: Mac OS X 10+, Windows 7+; separate apps for for iOS and Android
Latest version: Vitae
Free trial: Demo version
Free version: No
Reasons to buy
+
Thick oils
+
Delicate watercolours
Reasons to avoid
–
Not the cheapest
–
Mobile app sold separately
ArtRage is designed to ensure artists can focus on their creativity. It offers realistic oils, pencils, watercolour, canvas textures and other traditional media painting tools, many of which are fully customisable. 
In short, ArtRage replicates an old school art studio in digital form. As its makers say: "It's a canvas for thick, expressive oils and delicate watercolors, a sketchpad with a full set of pencils, and a sheet of paper with a stack of wax crayons all in one."
2021 saw the release of the latest version, Vitae for Windows and macOS. Highlights include being able to virtually smear and blend thick oils to create natural colour gradients; sketch with pencils and shade with the edge of the tip; and create delicate watercolor strokes that react to canvas texture. Like most visual editing software, there are layers, blend modes, guides, grids, and perspective layout tools, and you can also use photos as references if you choose.
If you're new to digital painting and looking for an affordable, intuitive program, ArtRage is an option seriously worth considering. The software is also available for iOS and Android, although you pay for those apps separately. Check out our Artrage 5 review to find out more.
(Image credit: Jon Stapley/Future)
A great free Photoshop alternative for brush performance
Specifications
Platform: Mac, Windows, Linux
Latest version: 5.0.2
Free version : Yes
Reasons to buy
+
Free
+
Open source
+
Excellent brush selection
Reasons to avoid
–
Lacking photo editing features
If you're after software for digital painting, Krita is an excellent Photoshop alternative. As an open source program, it's been created by artists who want to give others access to quality, affordable software. And they've focused on tools they know artists want and need. The brush tools, for example, are excellent (there are 100 brush types, nine brush engines, and brush stabiliser). 
The latest version, Krita 5, fixes many previous bugs with tagging and loading resources as well as a handful of UI problems. It also makes the software faster and improves the gradient tools.
The interface is very similar to Photoshop, so users familiar to Adobe's software will find this easy to master. However, as a digital painting program, Krita does lack some of the specific photo editing features of Photoshop. For more details, see our full Krita 5.0 review and our roundup of Krita tutorials.
The best Photoshop alternative for UI and UX design
Specifications
Platform: MacOS 10.14.4+
Latest version: 81.1
Free trial: Yes
Free version: No
Reasons to buy
+
Professional tool 
+
Clear focus on UI design
Reasons to avoid
–
Mac only
–
No raster editing
Sketch is a professional vector graphics app for creatives that's created enormous buzz within the design community, and web designers in particular, since its launch in 2010. 
The development team behind Sketch has made it as flexible as possible, with it supporting infinite zooming and vector shapes that are perfect for multiple resolutions. You can build a new graphic from primitive shapes, or start a new one with the Vector or Pencil tool.
It has a pleasingly simple UI and has many features similar to that of Photoshop and Illustrator, including layers, gradients, colour picker and style presets. Its popularity means there are also plenty of community-created Sketch plugins you can use to extend its functionality.
2021 saw a flurry of new features added to Sketch. These include improvements to real-time collaboration; in particular, developers can now view, inspect, and measure designs in any browser, on any operating system, all for free. Also, new document permissions allow designers to limit who can edit specific designs. 
More broadly, new math operations make editing faster and easier, while Linked Data allows users to create better mock-ups and prototypes with real images and information that relate to their designs. For more details, see our Sketch 2021 review.
(Image credit: Jon Stapley/Future)
The best free Photoshop alternative overall
Specifications
Platform: Linux, Windows, Mac
Latest version: 2.10.30
Free trial: No
Free version: Yes
Reasons to avoid
–
Learning curve
–
Can be laggy
A free, open-source Photoshop alternatives pick that's been around for donkey's years, GIMP stands for GNU Image Manipulation Program. Today it's available for Linux, Windows and Mac.
GIMP offers a wide toolset, similar to Photoshop in many ways, and is a great option if you're looking for a no-cost image editor. The interface differs somewhat from Photoshop, but a version of GIMP is available that mimics Adobe's look and feel, making it easier to migrate over if you're ditching Photoshop.
The full suite of tools is available here – everything you're accustomed to is within easy reach, including painting tools, colour correction, cloning, selection, and enhancement. The team that oversees development has worked hard to ensure compatibility too, so you'll be able to work with all the popular file formats without any trouble at all. You'll also find a very capable file manager built in, along similar lines to Adobe's Bridge.
As open source software, GIMP is constantly being improved. For instance, in December 2021, PSD support received various types of improvements. So if you tried GIMP before and didn't like it, it may be worth taking a second look. See our full GIMP review for more details.
09. Pixelmator Pro
Image editing app for the Mac
Specifications
Platform: macOS 10.14+
Latest version: 2.3.4
Free trial: Yes
Free version: No
Reasons to avoid
–
Mac only
–
Limited features
Pixelmator Pro is a kind of Photoshop-lite tool for Mac only, bringing together a photo editor, illustration and painting tool in one place. It offers non-destructive image editing, and supports features like tabs, fullscreen and split view. 
The interface is nicely minimalist and so won't be confusing for newbies. Plus there's a great 'hidden interface' option you can activate if you just want to see your image, with no distractions. 
This Photoshop alternative is fairly limited on features compared with the original. But it's cheap, light, fast and fun to use, so if you just need to do basic Photoshop-like things every now and again, it might be just up your street.
Improvements are constantly being made to Pixelmator Pro. The latest update in November 2021, for instance, introduced a Magic Background Eraser tool, allowing you to remove the background from any image with just a click, and a Select and Mask Tool, that lets you easily make advanced selections of challenging image areas such as hair or fur. Note that there are also slimmed down apps for iPhone and iPad called Pixelmator and Pixelmator Photo.
(Image credit: Pixlr)
10. Pixlr
Free browser-based image editor
Specifications
Platform: Browser
Latest version: X / E / BG
Free trial: No
Free version: Yes
Reasons to avoid
–
Limited features 
–
Doesn't work with TIFFs
Pixlr is a suite of three tools that work in the browser and via iOS and Android apps. The first is Pixlr X: a photo editing tool that's great for giving your work a quick boost with one-click edits and artistic effects. If you're used to using Photoshop, you'll find its interface easy to pick up quickly, as it's very similar.
Pixlr E is a more substantial image editing app, with collection of useful editing tools. Finally, Pixlr BG is an AI-powered tool focused on one thing: removing backgrounds from photos. All three apps are free to use, with premium versions available to unlock advanced features. 
Parts of this article were originally published in ImagineFX, the world's best-selling magazine for digital artists. Subscribe to ImagineFX.
Related articles: 
Round up of today's best deals