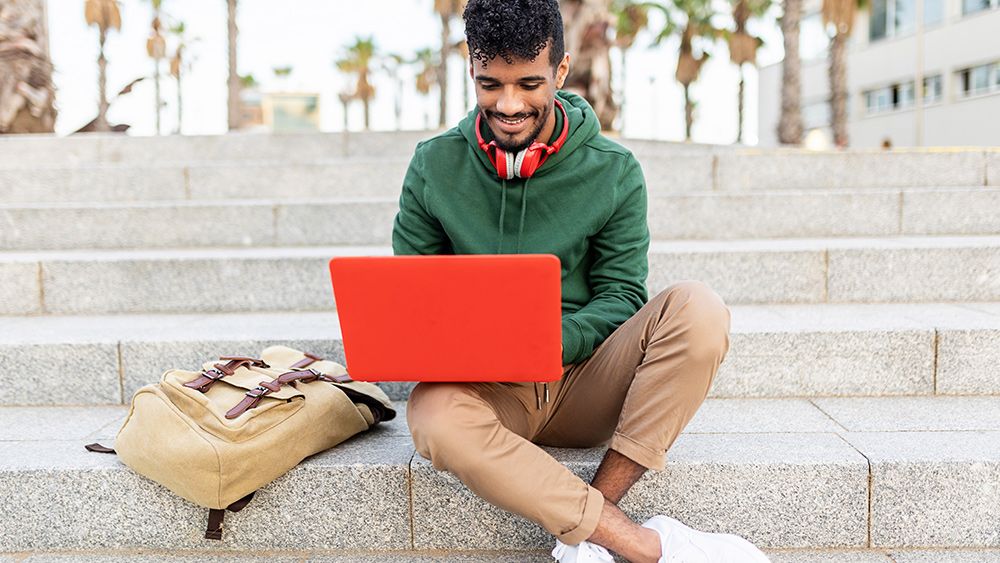 Choosing one of the best student laptops will often be one of your top priorities when it comes to kitting yourself out with everything you need as a student. Whatever subject you're studying, a portable computer that's as comfortable to use in a library, lecture theatre, seminar room or cafe as it is at home is an essential study companion. 
Of course, what specs that laptop needs to have will vary depending on what you're studying and what else you want to do with it. For younger students at schools, often affordable 2-in-1 tablet devices or Chromebooks can be the most practical solution. These are lightweight and perfect for note-taking and general web browsing.
But university and college students may need something more powerful, particularly on courses in the creative fields. Those learning skills in gaming and media, such as VFX and 3D modelling will need some seriously powerful graphics cards and plenty of RAM in their systems, while photography and video editing students may need to prioritize a display with fantastic colour accuracy and high levels of brightness, which makes portable workstations and gaming laptops a great choice as they typically pack some powerful hardware.
To make it easier to choose, we've put together our own list of the best student laptops based on our own reviews and bearing in mind the different needs that students can have. We've generally prioritised portability and versatility. We've included some high-performance options at one end for those that need them but also some great value devices that will be more suitable to many students' budgets. 
Most of them have a good-quality webcam and integrated microphone for joining digital lectures and can also double as entertainment devices for streaming your favourite shows after a hard day of study.  For help choosing, scroll down to the section on what to consider when looking for the best student laptop. If you're specifically after one of Apple's products, make sure you see our guide on how to get an Apple student discount. We've also got you covered if you want ideas on the best iMac alternatives. 
Finally, if you're going to be studying a creative subject, you'll probably need the right software, so see our guide to getting an Adobe Creative Cloud discount or download Photoshop for a free trial.
The best student laptops available now
(Image credit: Future)
The best MacBook for students
Specifications
CPU: Apple M1 chip with 8‑core CPU
Graphics: Integrated 7-core – 8-core GPU
RAM: 8GB – 16GB unified memory
Screen: 13.3-inch 2560 x 1600 Retina display
Storage: 256GB – 2TB SSD
Reasons to buy
+
macOS Big Sur is fast and responsive
+
Battery life is great
Reasons to avoid
–
Fanless design could impact performance
The MacBook Air (M1, 2020) is the most affordable laptop in Apple's current range, and while many of us probably have different ideas from the fruit-themed brand about 'budget-friendly' looks like, we believe this stunning device is absolutely worth students' cash.
Rather than using hardware made by Intel, Apple introduced its own SoC (system-on-a-chip), which it's stuck with on every Mac since. The M1 chip in the Air offers excellent performance, easily beating older MacBook Air models, while also improving battery life as well – we got up to 14 hours out of the device when we tested it.
The laptop can now also run iOS apps, giving you a larger library of apps than ever before, giving you advantages if you own other products from the Apple ecosystem such as an iPhone or iPad tablet. Meanwhile, the screen here supports the P3 colour gamut, making this an excellent laptop for students with needs for photography or video editing.
All in all, this is also a gorgeous laptop, something you'd be more than happy to be seen working on if style is important to you on campus.
See our full MacBook Air (M1, 2020) review for more details.
(Image credit: Future)
The best Macbook rival for students
Specifications
CPU: 11th-generation Intel Core i5 – i7 /AMD Ryzen 5 – 7
Graphics: Intel Iris Xe / AMD Radeon
RAM: 8GB – 32GB
Screen: 13.5-inch PixelSense (2,256 x 1,504) touch
Storage: 256GB – 1TB SSD
Reasons to buy
+
Comfortable keyboard
+
Beautiful screen
Reasons to avoid
–
Not enough ports
–
Alcantara fabric might get gross over time
Apple may make excellent laptops, but its old rival Microsoft has a brilliant device in the Surface Laptop 4, and it really gives MacBooks a run for their money. What makes this laptop so good for students? Not only does it have a gorgeous thin and light design, but it has an excellent PixelSense touchscreen that's a joy to use for creative work. 
It's also got an excellent keyboard, powerful specs (including cutting-edge integrated graphics from either Intel or AMD, depending on the configuration you go for) and incredible battery life. This is as close to a rival for the MacBook Air as they come, so if you have an aversion to macOS then rest assured that this will serve you just as well.
Read our full hands-on Surface Laptop 4 review for more information.
(Image credit: Future)
The best budget Chromebook for students
Specifications
CPU: Intel Celeron N4000
Graphics: Intel UHD Graphics 600
RAM: 4GB
Screen: 14-inch LED (1366 x 768) high definition
Storage: 32GB eMMC
Reasons to buy
+
Excellent battery life and performance
+
Bright, crisp screen
Reasons to avoid
–
No touchscreen
–
No fingerprint reader
The Acer Chromebook 314 is a great choice if you don't have massive demands from a laptop and don't want to blow your student loan. It has a bright and vibrant 14-inch display and 12-hour battery life, so you can work all day without anxiously keeping an eye out for a power outlet.
Chrome OS is less demanding than both Windows and MacOS. It can't run all the software programs you can run on a Windows computer or a Mac, but given that so many applications that a lot of students use are now online anyway, that might not be a problem for you – of course this won't be an option is you need specific software for your course.
Chromebooks are typically a lot cheaper than both macOS and Windows-based laptops, and can be a real bargain. When we reviewed the Acer Chromebook 314 we found it could cope fine with some basic art apps when connected to an Android tablet.
The keyboard is very comfortable, which is very important if you're going to be writing essays to taking a lot of notes in lectures, and it's a decent media playing machine, so you can whack on Netflix when you (or the student in your life) needs to unwind – we found the battery lasted long enough to binge an entire 10-episode series in one go with hours to spare for some work.
See our in-depth Acer Chromebook 314 review for more details.
(Image credit: Acer)
04. Acer Swift 3 (2021)
A solid Windows laptop for students
Specifications
CPU: 11th-generation Intel Core i5 – i7
Graphics: Intel Iris Xe Graphics
RAM: 8GB – 16GB LPDDR4X
Screen: 13.5" 3:2 IPS VertiView Display or 14" 16:9 FHD IPS
Storage: up to 1TB PCIe Gen SSD
Reasons to buy
+
Highly portable
+
Excellent multitasker
Reasons to avoid
–
Speakers are average
–
Webcam quality is 'meh'
The Acer Swift 3 is a prime example of what makes a great laptop for students: It's affordable, without making too many compromises, and yet it's powerful enough to easily handle day-to-day tasks, including web browsing and document creation. Sure, you're not getting the glamourous styling of the MacBook Air (though the Swift 3 is at least available in a selection of colours), but it's pretty hard to beat this kind of quality and performance for the price.
It's also thin and light enough to easily carry around school or campus, but with decent build quality which means it won't easily break. The latest model brings some choice hardware upgrades, so it's now a better performer than ever before, and battery life has been given a boost as well.
Our only real criticisms are that the speakers are pretty average so you might want to use headphones when listening to some tunes, and that the webcam is rather poor quality, but full HD 1080p webcams on laptops have only really made an appearance in the last 12 months or so thanks to the pandemic. For attending video lectures, it gets the job done just fine.
(Image credit: Future)
The best affordable student laptop-tablet hybrid
Specifications
CPU: Intel Pentium Gold Processor 6500Y – 10th Gen Intel Core i3
Graphics: Intel UHD Graphics 615
RAM: 4GB – 8GB
Screen: 10.5" 1920 x 1280 (220 PPI) PixelSense Display
Storage: 64GB eMMC – 128GB SSD
Reasons to buy
+
Affordable for a hybrid
+
Runs full Windows 11
Reasons to avoid
–
No Touch Cover or stylus included
–
Base model's specs are weak
The Surface Go 3 is Microsoft's most affordable 2-in-1 tablet-cum-laptop. You have to purchase the keyboard separately (and stylus too, if you want that), but combined with these accessories, the Surface Go 3 could be a better option than an actual laptop for students if your main priority is portability (and if you don't need to do anything too demanding).
Microsoft has kept the stylish and premium design of its other Surface products, while keeping the price of the Surface Go 3 temptingly low. It's not as powerful as the Surface Pro 8, or even the older Surface Pro 7, but for students looking for a laptop or tablet that they can create Office documents on, while also browsing the web and relaxing with a bit of Netflix binging, it's an excellent choice.
It comes running Windows 11 and this means it can run pretty much any application you can think of – within reason, because it's not got the processing power or RAM to deal with heavy design or media editing. It can serve you for some illustration and design work but when we reviewed it, we found it to be too underpowered to offer the same use you'd get from a fully fledged laptop. 
That said, its small size makes it perfect for slipping into a bag and taking to class, and the ability to use it as a tablet during lectures is great for taking notes. If you're after a tablet, this is a great choice, but for people wanting a laptop to type up long documents, we really advise buying the separate Type Cover as well, or investing in a Bluetooth keyboard.
You can read more details in our full Microsoft Surface Go 3 review.
(Image credit: Michelle Rae Uy)
The best workstation laptop for students
Specifications
CPU: Up to 11th Generation Intel Core i9-11980HK
Graphics: Up to NVIDIA GeForce RTX 3060 6GB GDDR6
RAM: Up to 64GB DDR4-3200MHz
Screen: 17.0″ FHD+ (1920 x 1200) InfinityEdge Non-Touch Anti-Glare 500-Nit – 17.0″ UHD+ (3840 x 2400) InfinityEdge Touch Anti-Reflective 500-Nit
Storage: Up to 4TB M.2 PCIe NVMe
Reasons to buy
+
Great performance and powerful configurations
+
Gorgeous design
+
Fantastic display with slim bezals
The Dell XPS 17 (2021) is one of the best portable workstations on the market, and another good option for students of creative disciplines who aren't fans of macOS. Dell already makes some of the best Windows products you can buy, but its XPS range is favoured by creative professionals thanks to its more powerful components.
You can get up to an 11th generation Intel i9 processor, 64GB of memory and an Nvidia GeForce RTX 3060 graphics card to power through any demanding renders. It's a shining example of just how great a Windows device can be for creatives. When we reviewed it we found there was very little that the Dell XPS 17 couldn't handle, and it ran Adobe's creative apps with no issues and even low-demand games like Fortnite – nice for breaks or after class.
 The 16:10 aspect ratio screen can be useful since it offers more vertical space than standard 16:9 widescreen displays, and it can be configured with a 4K Ultra HD+ resolution of 3,840 x 2,400. The screen supports 100% Adobe RGB and 94% DCI-P3 colour gamuts, so it offers accurate colours for photography or videography students. Obviously at 17 inches, it isn't the most portable laptop, but for it's size it's impressively thin and light. You have the option of buying with Windows 11 preinstalled.
See our full Dell XPS 17 (2021) review for more details.
(Image credit: Dell)
08. Dell G15
The best gaming laptop for students
Specifications
CPU: 11th Generation Intel Core i5 – i7
Graphics: NVIDIA GeForce RTX 3050 – RTX 3060
RAM: 8GB – 32GB
Screen: 15.6-inch FHD (1920 x 1080) Anti-glare LED Backlit Non-touch
Storage: 256GB SSD – 1TB SSD
Reasons to buy
+
Affordable for a gaming laptop
+
Anti-glare FHD LED display
Reasons to avoid
–
The build is a tad flimsy
–
Design is rather uninspiring
–
No powerful GPU options
Another option from Dell, the Dell G15 is ideal for students who want to do some gaming in their downtime. There are numerous configurations to choose from when ordering so you can customise the device to your needs, but the base model is pretty capable, and comparatively affordable for its specs.
There's sadly no option to include the most powerful graphics cards on the market, which is little surprise given this is a budget-friendly laptop and products rocking an RTX 3080 Ti will cost an eyewatering sum of cash. 
That means that while you'll be fine running programs like Maya or Blender, it's not going to be as speedy or smooth as it would be running on a desktop PC, or even a beefier laptop, and the fan noise can get a little loud when they're trying to keep the system cool. Still, if you're a student looking for something that can tackle both graphic design, photo editing and run most of the Steam game library on a budget, this is it.
(Image credit: Future)
The best student laptop for demanding work
Specifications
CPU: Apple M1 Pro / M1 Max
Graphics: Integrated 14- or 16-core GPU with M1 Pro / M1 Max chip
RAM: 8GB – 64GB
Screen: 13.3-inch, 2,560 x 1,600
Storage: 512GB – 8TB
Reasons to buy
+
Top-of-the-line Apple hardware
+
Superior battery life 
+
Can run iOS apps
Reasons to avoid
–
No USB-A port
–
Incredibly expensive
The new MacBook Pro 14-inch is one of the most powerful laptop workstations on the market right now, so the price will be hard to swallow for many students on
a budget. But for anyone on a course that requires demanding on hardware, you might find it's a worthwhile investment.
Boasting Apple's cutting-edge M1 SoC, it comes in plenty of configurable options so you can really make it as powerful as you need it. Even in the most basic configuration, it's capable of much more resource-intensive tasks, such as editing 8K video. In our own tests the MacBook Pro 14-inch easily ran for 17 hours without needing a charge. You get even more battery life out of this laptop's larger 16in brother, but for the balance between power and portability, this is the best MacBook you can buy.
One notable con is that while the new MacBook Pro line reintroduced ports like the SD card reader and HDMI (allowing you to hook it up to an external display), there's no built-in USB-A port so you'll need to buy an Apple-supported dongle or adapter if you need that. If you're studying video editing or 3D design, then without a doubt, this is the best student laptop, albeit at a very non-student friendly price.
See our full MacBook Pro 14 (2021) review for more.
(Image credit: Future)
The best cheap Windows laptop for students
Specifications
CPU: 11th generation Intel Core i5 / Intel Core i7 OR AMD Ryzen 5
Graphics: Intel UHD integrated graphics
RAM: 8GB
Screen: 14-inch, 1080p, IPS LCD
Storage: 256GB
Reasons to buy
+
Very affordable Windows 11 laptop
+
Good selection of ports
+
Nice 1080p screen
The Acer Aspire 5 is one of the cheapest Windows 11 laptops you can buy, making it great value for students. For little more than the cost of some Chromebooks, you get a lot more flexibility since you can run Windows 11 applications. It can handle everyday tasks just fine, but more specialist, heavier software such as creative programs will start to tax it – although there are models with a dedicated GPU.
This no-nonsense approach doesn't mean it's a boring device, instead it offers a decent amount of power without some of the more 'flashy' excesses of other laptops (although it's by no means one of the most powerful laptops out there), and makes it a decent laptop for not just working in an office on, but for when you need to use it in front of clients.
This laptop's not going to win any design awards, and it's a shame it adopts the old proprietary port approach rather than offering USB-C charging, but if you're looking for a Windows laptop at a very cheap price, this is our top recommendation.
Read our in-depth Acer Aspire 5 review to find out more.
(Image credit: Asus)
11. Asus Vivobook S14
The best laptop for students on creative courses
Specifications
CPU: 11th Gen Intel Core i5 – Intel Core i7
Graphics: Intel Integrated UHD Graphics 620
RAM: 8GB – 16GB
Screen: 14-inch, 1920 x 1080 16:9 aspect ratio, IPS-level Panel
Storage: 128GB
Reasons to buy
+
Reasonably priced
+
Good colour gamut
+
Lots of storage
Reasons to avoid
–
Not the highest resolution
The Asus Vivobook S14 is a fantastic choice for students in creative courses. Though a nicely affordable laptop, it was designed with creative professions and hobbies in mind rather than typical office or school work. It offers lots of niche features to appeal to digital illustrators and graphic designers alike, all while being highly portable and lightweight so you can move it around with ease.
You get three USB-A ports as well as a Thunderbolt USB-C so you can hook us as many peripherals as needed, including kit like graphics drawing tablets if you do any digital illustration or photo editing. If you're not looking for a hybrid 2-in-1 device, this laptop is one of the best choices for creative studies on a tight budget.
What should I look for in the best student laptop?
One of the most important things for a student laptop is often portability – which means a light, compact machine where possible. While it can be great to have a mini home entertainment or gaming system in your student digs a heavy laptop with a 17in screen could be a real pain to lug to college and back.
Although we do recommend one 17-incher in our guide for those that need that screen space, it's fairly light and svelte for its size. But we'd generally recommend a 13 or 14in widescreen laptop as the best option for students. This will fit easily into a backpack or satchel and in most cases will be reasonably light. 
You'll want to combine that with battery life that can get you through a day of remote study, and when the battery does run out, it needs to be able to be recharged quickly. You might want to consider an external power bank as well (see our guide to the best power banks for that).
How much power do I need for a student laptop?
How much power the best student laptop needs to have depends very much on what you're studying. If you'll only be using your laptop for writing essays and other documents, taking notes, watching and streaming media and maybe connecting to online classes, then you don't need much power at all, and a Chromebook or an affordable 2-in-1 should do you fine. 
However, if you're studying on a creative course and need to run intensive software, you'll want more processing power and probably at least 8GB of RAM, if not more if you're doing video editing or 3D work that requires rendering. Design students may benefit from a laptop with a good graphics card.
Which laptop brand is best for students?
When buying a student laptop, you want a device that is well built, affordable and reliable. For that last point, it's generally best to go with brands that have a good reputation – you want your laptop to get you through at least your whole course of study, if not a lot longer. 
Good brands for reliability are Dell, HP, Acer, Asus and Microsoft for Windows laptops, and then, of course, Apple. For creatives, Asus has its fantastic VivoBook range which offers good prices on devices built with creative professionals and students in mind, so check out those if you're starting a course for video editing or digital illustration.
It's also always worth checking whether your college has a particular policy or recommendation. Some recommend using Windows-based laptops to reduce software incompatibility issues or facilitate technical support.
Do Chromebooks make good student laptops?
Yes, they do. Not every student will need massive specs. We've included a Chomebook at number 3 in our guide to the best student laptops because for many students giving up a big storage capacity for super speed makes very good sense. The apps that Chromebooks run take up very little space, and with built-in support for Google Drive, it means your documents are all saved in the cloud as well.
Are hybrid 2-in-1s good student laptops?
Again, this is a resounding 'yes' in our opinion. Hybrids, also known as 2-in-1s combine the best of tablets and laptops into a highly portable package that's ideal for slinging in a bag to carry to school or university. Devices like the Microsoft Surface Go 3 at number 6 above are great for working in spaces where you might not have a desk – even on the train, while you can still keep the convenience of a keyboard for when you need it.
Read more:
Round up of today's best deals